Bee Supplies
3% cash back in reward points on all purchases!
Beehive Ventilation Shim -10 Frame quilt box
10F-Vent-Box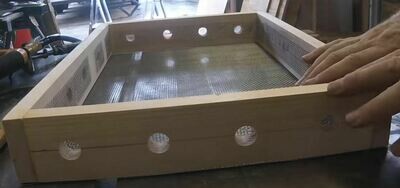 Inner Hive Covers
Price :
36.95
USD
In stock
This is a hive top ventilation shim also known as a quilt box. It will keep your hives well ventilated and free from condensation. Works as a quilt box and a ventilated inner cover. You can even place it on your hive and fill it with wood chips at your final fall inspection and use it as an insulated box, plus the wood chips will also help soak up excess moisture from inside the hive.
These are built to order so please allow 10 businnes days for building before shipping.